Stair running and training for fun runs using stair runs is a great alternative workout to build strength & foot speed.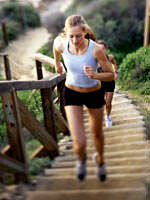 The "High 5's" as I call them are a great workout to get your legs used to stair running and a good way to add in a varied run into your weekly or fortnightly program. The 5 is in reference to the 5 different sets of stairs used. And the goal is to build up to completing 5 repeats of each of the 5 sets of stairs.
Follow this progression to gradually increase your stair running volume;
Stair session 1 – 2's, 2 sets of each of the 5 stairs
Stair session 2 – 3's, 3 sets of each of the 5 stairs
Stair session 3 – 4's, 4 sets of each of the 5 stairs
Stair session 4 – High 5's, 5 sets of each of the 5 stairs
Then each month try to beat your time to complete the full "High 5's".
If you find you are particularly sore from one of the workouts repeat it again for another fortnightly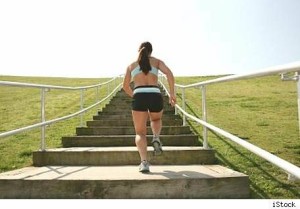 cycle before stepping up to the next level. As any good coach or runner will tell you….listen to your body!
While this workout below could be transferred to another 5 set of stairs near you, this is the workout I've devised in Sydney. Start with a 10-15min warm up run before heading to the first set of stairs.
1) John st Square stairs that lead down to the Light rail station.
90 stairs (5 flights of 18)
then a 2km jog across to…
2) the new stairs next to 'The bond' on Hickson rd (Lend lease office)
Approximately 82 stairs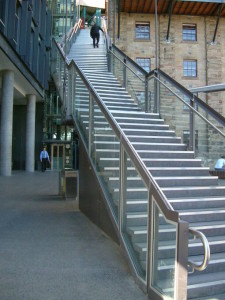 OR… trade these for the old sandstone stairs about 200m further down Hickson rd. They are shallower steps but there is about 108 of these. They both take you up towards Kent st so will be similar elevations.
then another 1.2km recovery jog along Hickson rd to
3) The Rocks stairs (opposite the Sebel hotel & Pier 1)
83 stairs here and great views on the walk back down.
Then another scenic recovery jog (aprox 3km) past Circular Quay & the Opera House to
4) the Fleet steps, which are one of the busiest in Sydney, but nice & wide with even sized steps so great for running up fast. Does anyone know the excact number of stairs here. I must admit I'm not the best 'counter' going around, but lets be honest it isn't a competition about how many stairs you've done (to the nearest 10), its about continuing to challenge yourself. This workout should do this for al of us.
After you finish your Fleet step sets its over to Woolloomooloo (approx 1km) for the final set.
5) McElhorne stairs, Woolloomooloo
112 (3 flights of about 36-38). These are probably the toughest of all the stairs and a great way to finish off the legs.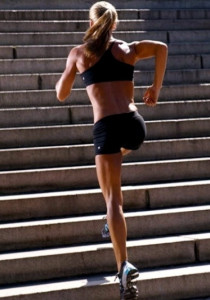 Finish with an easy paced recovery jog (10-20mins), cool down and stretch. It's a tough workout, especially if you haven't been doing any stairs recently so ease into it.
Enjoy!