The most popular fitness activity for OUTFIT members is our boxercise programs. Currently we have classes in Sydney's Eastern Suburbs, City, and Inner West. Our 10-week terms will challenge you as they progress to have you feeling fitter & stronger while having lots of fun along the way.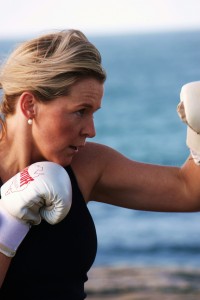 The boxercise format ensures a great cardiovascular workout while also increasing upper and lower body strength and endurance and everyone's favourite…. abdominal strength.
By far the most dynamic and varied exercise class, participants in boxercise can expect lots of fast punches, fun combos, cardio games & challenges, skipping and strength conditioning. Come and join in a fun, fast class that will suit people of ALL fitness levels. The boxercise classes are $180 for a 10-week term.
For a
FREE trial
or for more information about our boxercise programs contact us on 0412 316 916 or
email us
.
Our boxercise program is also very popular with corporate groups for workplace training and staff moral. Some of our past & present clients include staff of Foxtel, Kellogg's, UKTV, Alcon Australia, Diageo, Reckitt Benckiser, Nutrimetics, Coca-Cola, Pacific Magazines, Broadcast Australia, Veolia and Eventful Management.
Areas we currently cover include North Sydney, Neutral Bay, Chatswood and Mosman on the North side. Gladesville, Drummoyne, Leichhardt, Balmain, Annandale, Glebe, Camperdown, Petersham, Newtown and Sydney Park across the inner west.
Centennial Park, Woollahra, Edgelciff, Queens Park, Bondi, Vaucluse, Dover Heights, Bronte, Coogee, Clovelly, Kensington, Pagewood and Maroubra in the East. In the city we train at Pyrmont and the rocks.
Email info@outfithealth.com.au for more information about participating in our boxercise programs or starting a new class for yourself.
Join our one of our classes such as the:
Annandale boxercise class Tuesday evenings
Balmain boxercise on Friday mornings
Camperdown boxercise on Wednesday evenings
Centennial park boxercise on Tuesday mornings
Kensington boxercise on Wednesday mornings
North Sydney boxercise on Thursday evenings
Sydney park boxercise on Wednesday mornings
See our full class timetable.