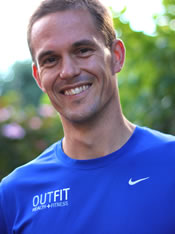 Michael Hennessy, Director and Senior Exercise Specialist. The founder of OUTFIT health + fitness Michael's fitness passion lies in the outdoors and the longer events. Marathons, half marathons, adventure races, rock climbing, mountain biking, trail running, Tough Mudder and even the 100km Oxfam Trailwalker. Michael is a health writer and contributes regularly to several magazines and online publications. Michael is a passionate runner & running coach keen to show you what you're capable of. Motivating new starters to reach their potential is probably the most rewarding part of working for OUTFIT health + fitness.
B.App.Sci.(Exercise & Sports Science), Grad.Dip. of Education, Cert III & Cert IV in Fitness (Gym Instructor, Group Exercise & Aqua Instructor), Athletics Australia Level 2 event coach.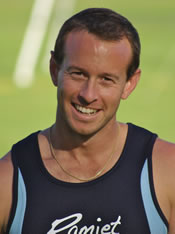 Steven Blacker, Exercise Specialist, Boxing Instructor, Sprint coach and 'abs destroyer'. Steve loves interval style training for an all over body workout (see the Centennial Park Blue Class). Don't be fooled by the big smile however, in his repertoire hides some gut busting abs exercises. He is also an expert in speed & plyometric training, which involves Abdominal exercises of the highest level. Steve was male printer of the year with the NSW athletics league, dual gold medallist at the World Masters Games in 2009 and has been a national Oztag rep between 2000 & 2011. Even though he's more suited to a sub 11s 100m, Steve is a surprise packet at the OUTFIT 5 and recently completed at least 20km in the Sydney Tough Mudder.
Certificate III in Fitness, Athletics Australia Level 2 Track & Field coach.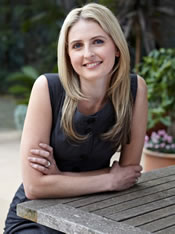 Bobbie Crothers, Accredited Practising Dietitian (APD). An experienced industry dietitian and the head of the sports nutrition at OUTFIT health + fitness  Bobbie can assist Runners (sprinters & long distance), Cyclists, Triathletes, as well as other sports specific programs. A keen road cyclist and triathlete herself Bobbie has come across to the dark side and competed in some Mountain bike races and Adventure races although you're more likely to see her on the road bike or running her favourite loops through Centennial park or the coast.
B.Science (Dietetics) Hons, 1st Class and medal. Member of Dietetics Association of Australia (DAA) & Sports Dietitians Australia (SDA)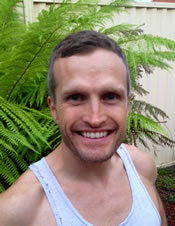 Ewan Seaford, Exercise Specialist, Personal trainer and functional movement trainer. Ewan is a highly motivated and enthusiastic trainer with years of elite sporting and fitness training experience. Ewan loves functional Crossfit style training, minimalist footwear and instils the virtues of this on his clients. In fact he's a living advert for the principles he stands by. Ewan knows the importance that balanced nutrition plays in weight loss and exercise performance so is keen to help you improve your diet to gain the most from your training. He is a keen student of the Paleo diet & the practical application of it for 'normal' people. Ewan teaches the OUTFIT X class at Queens Park, and is also available for personal training sessions.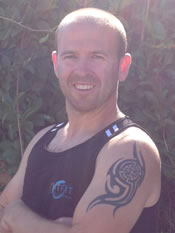 Darren Fitzharris, Exercise Specialist, Boxercise instructor & Personal trainer. Darren has been in the fitness industry since 2005 after an inspiring personal transformation. He knows from experience the benefit of healthy eating & exercise and can help you achieve the same amazing results. Darren has a strong motivating style & a cheeky Irish sense of humour that will help you work hard but have fun in the process. Darren teaches our Annandale  & Kensington boxercise classes as well as personal training sessions. Darren also believes in the functional fitness style popular in Crossfit.
Cert III & Cert IV in Fitness. Punch Pad certification.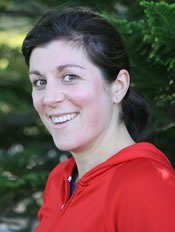 Nicky Turnbull, Exercise Specialist and Balmain Boxing Instructor, is a Cert III qualified group exercise instructor with a wealth of health & fitness experience. Nicky's passion for exercise grew through team sports – playing lacrosse at a national level (for England) and soccer at a low, but enthusiastic level! Nicky is also a keen tennis player and runner blitzing the OUTFIT 5 in Sub 21. Now also a mum of 2, with less time on her hands, Nicky knows how tough managing a career, family & lifestyle can be, but will show you the secrets that keep her in top shape as well as drawing on experiences from working with some of the UK's top fitness professionals.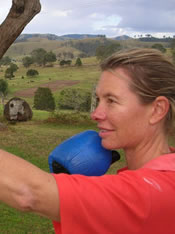 Sue Nixon, Exercise specialist, Personal trainer & group fitness instructor. Sue has always played a variety of sports, and has a passion for health, fitness and the outdoors. Sue motivates her clients to strive for that little extra at training, inspiring them to improve their fitness. She has a keen interest in boxing, and also a special interest in pre and post-natal fitness, keeping women fit during pregnancy and regaining their fitness after. Sue also likes to improve her clients' strength, assisting them in weight control and is highly skilled at teaching safe & correct technique. Sue has a keen eye for detail in training and a motivating charm to help you achieve your best.
Cert III & Cert IV in Fitness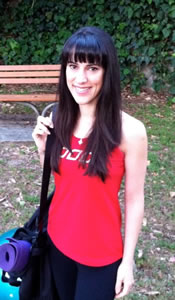 Kathy Smith, Exercise specialist, Pilates instructor, boxercise instructor, personal trainer. Kathy is a energetic friendly instructor with a strong background in Pilates. She is very effective teaching precise movement and technique to help the body recover from injury or improve functionality. Kathy is currently completing an exercise science degree at UNSW and is a dedicated health professional with years of group instructing experience as well as clinical health practice.
Cert III & Cert IV in Fitness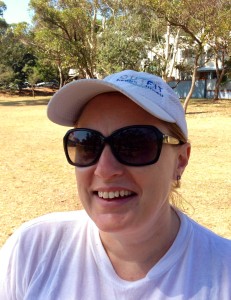 Simone Kippax, Exercise specialist, Boxercise instructor & Post-natal fitness instructor. A keen boxercise participant herself Simone knows exactly what it takes to get the most out of our inner west boxercise classes. Simone has the perfect balance of tough trainer & sensitive motivator to help you give your best effort in the class. As a mum and fitness trainer Simone has the expert knowledge and personal experience for post-natal fitness. Simone teaches OUTFIT Mums classes as well as establishing the Free 'Mums Like Me' post-natal classes in Sydney.  For more information on the MLM classes contact simone@outfithealth.com.au
Cert III in Fitness. Pre & post-natal fitness certificate.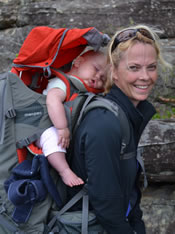 Victoria Silk, Exercise specialist, boxing instructor, personal trainer, and Sailing instructor. Vic is a dynamic outdoors expert. She is a keen rock climber, mountaineer, trail runner, hike leader and general outdoor body. Vic lives what she preaches, even with the addition of a young family. As a mum of 2, Vic has the knowledge and personal experience for post-natal fitness. Vic is a tough, yet supportive, personal trainer who will bring out your best. Vic loves getting out into the bush to hike, climb, and run… and just might convince you to jump on-board for an unforgettable day of sailing.
Cert III & Cert IV in Fitness, B.Arts (Communications).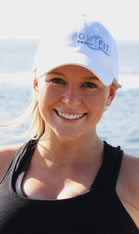 Rosie Gall, Exercise Specialist, Boxercise instructor, Mums & bubs instructor & Personal Trainer. No matter what your fitness level, whoever you are (professional, athlete, a Mum or older adult), if you're looking for an energetic, friendly and supportive trainer with enough toughness to challenge you to achieve great results, then train with Rosie. She looks forward to the challenge of creating a happier, healthier and fitter YOU! Rosie holds her Certificate III in Fitness (gym instructor & group exercise) and a Certificate IV in Fitness (personal trainer) as well as 'pre & post natal' exercise certification.
Paul Hadfield, Chiropractor, Pilates instructor and Exercise Physiologist. Another friend of the Ab (another scary customer), Paul has represented Australia in countless world championships for Trampolining (placing 5th in 1998). However he gave it all away to tackle Adventure races and ultramarathon trail running including the Six Foot Track Marathon, North Face 100, and Oxfam Trailwalker (finishing 2nd in 2012). Paul is one of our experts on our Injury hotline and a valuable consultant to the OUTFIT running strength programs.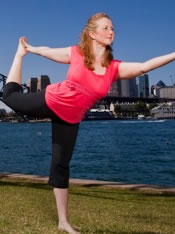 Skye Baird, Yoga Instructor. Skye completed her Yoga Alliance Accreditation in Santa Monica, California and has trained in the latest Hatha yoga techniques. She has international experience in Australia, London, Japan, Canada and the US, and now brings her passion for wellness and healing to her hometown of Sydney. She has studied more than 60 asanas (postures), along with meditation, philosophy, anatomy and sequencing designed to promote flexibility and vitality. Skye leads holistic lifestyle and loves to help people achieve the ultimate life/work balance. Skye manages the yoga classes at both Kellogg's & Veolia, and has a great following in her class. They look forward to their weekly class and enjoy the inspiration to work towards a life/work balance.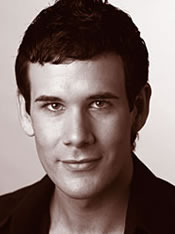 Kevin Privett, Pilates instructor, Dancer, Choreographer and personal trainer. Kevin is a dynamic instructor that fully engages every class & individual he teaches. For OUTFIT Kevin teaches Pilates classes and our school Dance programs but Kevin has also forged an impressive Dance and choreography career. As a performer Kevin most recently worked with choreographer Tim Farrar in A Few Things of the Same Kind which won 'Most Outstanding Choreography' award at Short & Sweet + Dance 2010. He also performed and toured in Graham Murphy's production of Aida for Opera Australia and danced in the film adaptation of Mao's Last Dancer.
Grad Cert in Pilates Method & Associate Degree in Dance Performance.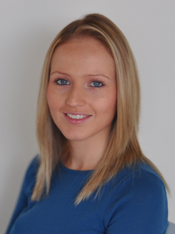 Natalie Linton, Accredited Practicing Dietitian (APD) and nutritionist, who has experience in a variety of medical areas. Natalie is committed to improving the health and quality of life of individuals by providing tailored, practical and evidence-based advice on healthy eating. She has a particular interest in weight management, diabetes, insulin resistance, heart disease and gastrointestinal disorders. Nat is a keen runner and a regular in the early hours in Centennial park or Bondi. She is the founding owner and manager of Munch Nutrition. Natalie also presents corporate nutrition health talks in the workplace, as well as individual consultations.