Structured progressive running groups will challenge you & teach you the finer points of running. Whether you're training up for a longer event, a faster 5km or to improve your regular running the run club sessions will help you improve your running and have fun doing it. The groups are friendly, supportive and social. You'll make good friends and be challenged by those just slightly quicker then you. In addition to the weekly training sessions membership to the running group includes a personalised monthly training plan specifically designed for your running goals. OUTFIT runners also have access to extensive running blog and our monthly OUTFIT 5 (5km fun run).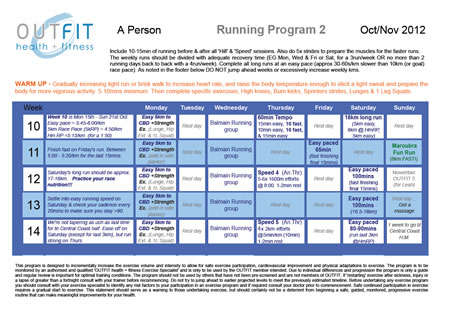 Balmain Running Group – Wed 6am
Join us on our runs through Birchgrove, Balmain, Rozelle, Lilyfield and Leichhardt. Join other runners from Drummoyne, Five Dock, Haberfield as we tackle the beautiful runs and a few of Balmain's hills. Our Balmain running group is $250 for 10 weeks, and includes a free personalised training plan.
Centennial Park Running Group – Mon 6am
Join us in Centennial parklands which is perfectly located for runners from Bondi, Waverley, Queens Park, Bellevue hill, Woollahra, Paddington, Randwick, Clovelly, Kensington, Moore Park, Surry hills and Redfern. Our Centennial Park running group is $250 for 10 weeks, and includes a free personalised training plan.
Camperdown Running Group – Tues 6am
Our Camperdown running group training sessions can take us through Annandale, Stanmore, Petersham, Newtown, Enmore, Glebe, Forrest Lodge, Ultimo, Pyrmont, Alexandria, Waterloo, Redfern and Erskineville. Our Camperdown running group is $250 for 10 weeks, and includes a free personalised training plan.
Maroubra Running Group – Thurs 6am
Meet us down at Maroubra beach as we run along the coast or up the many hills Maroubra has to offer. This is the perfect group for anyone living in Maroubra, South Maroubra, Coogee, South Coogee, Malabar, Pagewood, Hillsdale, Matraville, Little Bay, La Perouse, Banksmeadow and Botany. Join us for this year's Maroubra fun run, or in our preparation for bigger events across Sydney. Our Maroubra running group is $250 for 10 weeks, and includes a free personalised training plan.
What to expect at a running group class
Each session is quite different and depending on what phase of training we're in or what events we're building up to we may be doing speed work (such as 400m & 800m repeats), long runs, hill repeats, specific running strength exercises, anaerobic threshold runs, or tempo runs.
Michael is a Level 2 Athletics coach (with Athletics Australia), an exercise physiologist, and registered personal trainer. More importantly he is a passionate runner and coach who will invest all the time required to help develop your running further, whatever your goals (large or small).
PERSONALISED TRAINING PLAN
Included Free for all running group members the personalised running plan will help you achieve your goals, whether they are to run faster, further or more regularly & efficiently.
3-month Personalised Running Plans are $231. They include 3 successive 1-month plans that progress with you as you improve. Plans will be prepared within 48hours of receiving your running experience, exercise history & goals. Online & phone support is also available throughout the program duration.
We've had clients locally from Sydney & Melbourne, and as far afield as London & Norway achieve great results.