OUTFIT health + fitness started in 1999 in Sydney's City and Eastern suburbs regions. Growing to encompass the Inner West and North Sydney our trainers cover an increasing area of Sydney. As mobile fitness trainers we can come to you for personal fitness session so contact us and we can work out a fitness solution that suits your time and location.
We're all about the OUTdoors & FITness, and so OUTFIT was born.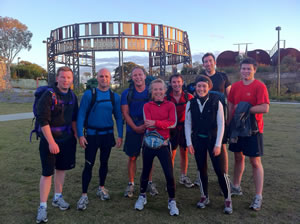 Why choose OUTFIT health + fitness?
Fully qualified and registered fitness professionals.
Insured and also registered with Fitness NSW (the peak body)
A dynamic team of highly qualified professionals including exercise physiologists, dietitians, chiropractors, physiotherapists and fitness trainers.
First aid trained fitness professionals providing a safe exercise environment
Challenging progressive exercise training programs with proven success
Social and fun group environment to train in
Specific individual health assessment and personal training
Established Sydney fitness business
Read what our clients have to say….
I have been doing the class for nearly 2 years, and have loved it. The sessions allow you to push yourself, no matter what your fitness level. Michael knows his stuff and is encouraging – there is no drill sergeant from boot camp screaming in your face to do more press ups. I have made some good friends there, and always look forward to the sessions, even at 6.15am on a cold dark winter morning!
As a mum of two small children, I hadn't exercised properly for about 5 years before I started training with OUTFIT.  I was apprehensive at first as I was totally unfit but Michael tailored a program which was perfect for me and I have thoroughly enjoyed every session with him.  He is enthusiastic and his approach to exercise is so professional.  He doesn't scream or yell to get results, rather, sets realistic goals which I am happy to say I have reached and continue to strive for.  In addition to one on one personal training, I have also been involved in other classes organised through OUTFIT and have met some great people this way, as well as varying my training. I would recommend Michael and his team at OUTFIT to anyone seeking out a personal trainer.