As we all recover from a fantastic long weekend, and look towards May and beyond there is some great events on the horizon. Whether you're running the North Face 100, Wild Endurance, the SMH half marathon, other road races or tackling 4 or 8km in the Mothers day Classic, May has some fantastic events for all. But what happens after your big race.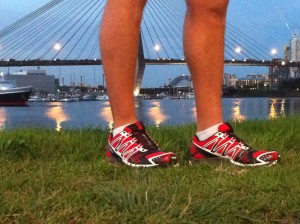 Research shows many of us are at increased risk of depression and lack of motivation after a big event or goal has passed.
Strategies to keep focus & avoid the post race blues;
Plan ahead. Program your recovery time after your event and schedule in your return to training so you don't let your break turn into a long hiatus that makes it hard to return. We always include 3 weeks pot event in our training programs to maintain longevity.
Do your homework. Event calendars, running group websites & chat rooms can be a great source of new ideas for new races, challenges and training regimes.
Mix it up. Change your distance or go offroad. 10km runners might look up to a half marathon, or knuckle down for a fast 1 mile challenge. Marathon runners look at the growing number of offroad events or even triathlon or multi sport races such as adventure races.
If you have a bad race, let it go. Don't dwell on your mistakes. Instead learn from them & prepare better for your next event. Looking forward with positive intent will help your training and keep you on track, but be sure to take a break if you're overtraining.
If you have a successful race, celebrate your achievement (your way). Be sure to soak up that great feeling of achieving a difficult task and don't forget it. With long & gruelling events be sure to schedule in recovery time & refuel physically 7 mentally before your next challenge
Go for a run. Even just a short one. Some of my best decisions in life have been made with the clarity exercise gives you.
Gear up. Purchase some new running gear to help give you back that running feeling. It can be new shoes, jacket, watch, phone app, anything. Just use your toys to help your running mojo to return.
So, I've got some fantastic new shoes. The new Salomon XR Crossmax shoes are designed as a light-weight trail shoe that are also great for some road running. Nothing gets me fired up for a new run like some new fast shoes, I couldn't wait to get out & go for a run, and having the long weekend gave me the perfect opportunity to get out on one of my favourite loops in the Royal National Park. I've had a few pairs of North Face & Salomon shoes in the past (the XT Wings were my favourites), but these newbies were great. Regardless of what shoes (or minimal options you go for) if you find yourself in a motivational slump it can always help to gear up. With the cooler weather coming it's a great idea to make sure you have gear for all conditions so there are no excuses whether its bright & sunny, cold & windy or pouring with rain. There's a great run to be had in all conditions!!