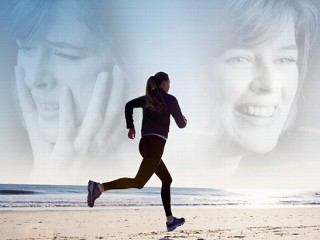 A growing body of research suggests exercise can help beat depression and anxiety. While many people turn to medication when it comes to treating depression, studies have shown that exercise can be just as effective means of treatment. Unlike many drugs there are almost no side effects from exercise. This is important because in Australia 1 in 5 women and 1 in 8 men will experience depression at some point in their lives.
Exercise versus medication
A study of older patients showed significant reductions in depression through exercise. Although anti-depressants provided a more rapid initial response than exercise, at the completion of the 16 week study, exercise was equally as effective in reducing depression when compared with the group treated with anti-depressants alone. Also the exercise treatment group were much less likely to get depressed again as they continued an active lifestyle.
Why does exercise help?
Scientists have found that you can use exercise to combat depression in several ways, including:
Stress hormone production
During prolonged periods of stress, anxiety and depression, our bodies produce excess amounts of stress hormones such as adrenalin and cortisol. Exercise reduces the effects of these, which helps you reduce the experience of negative emotions.
The feeling of having no 'control'
Exercise can provide you with an active sense of control over your situation. Research has also shown it can increase your confidence and self-esteem.
Lack of energy
When you exercise, your body increases your heart rate, your breathing, and circulation to your brain and muscles. This increases your metabolism; making you feel more energetic.
Limited endorphin production
Exercise also increases the production of endorphins, resulting in a positive mood lifting effect, or 'post exercise high'. You don't even have to exercise regularly to experience this – scientists have found this to be the case after just one exercise session.
The cycle of inactivity
Exercise increases the release of 'happy' hormone serotonin, which is involved in regulating not only your mood, but also your sleep, libido and appetite. Having improved functioning of your sleep/wake cycles (circadian rhythms) results in better quality sleep, helping to break the cycle of inactivity related to depression.
How you can make a difference with exercise
Start small Remember, something is definitely better than nothing, and even small bouts of exercise will increase endorphins and improve mood. Research by Yeung (1996) showed positive acute effects of exercise on mood state, so even short bouts of exercise could be the springboard to longer and more challenging sessions, which will result in even better benefits.
Choose something you enjoy The most effective exercise plan is the one you stick to…. therefore the most long term benefit will be from the program that is fun, challenging and enjoyable.
Make it social Recruiting a friend or family member as your exercise buddy, or joining a group fitness class or sports team are great ways to be more active. Chen et al. found women with limited social support and interactions were at higher risk of post-natal depression. Any social interaction is beneficial but combining your exercise in a social setting is a great double up for time poor Mums, and the rest of us busy people.
Remove the obstacles! Problems such as not having enough time, excessive cost, lack of motivation, lethargy family or work commitments and embarrassment are commonly reported obstacles that inhibit the efforts of people suffering depression. Ask for help from family members. They may be able to mind the kids, help provide motivation and reminders, or join you for your exercise.
Moderate intensity is more beneficial than low intensity Research shows the greater the intensity of exercise, the greater the mood enhancing benefits. These benefits are evident in both aerobic exercise and resistance training, but not from passive stretching & flexibility training.
30mins or more per day for at least 3 days/week Exercise of 30mins or more is more effective, but just getting out & completing a single bout of exercise will see an improvement in mood. The work of Dunn et al (2005) showed that the reduction of feelings of depression, due to increases of the mood lifting endorphins, are longer lasting when the exercise is more regular (3-5 times a week) and for more than 30 minutes.
Just do it A 2007 study of women (by Craft et al.), comparing supervised v home based exercise programs showed that both exercise programs were associated with reductions in depressive symptoms and increased physical activity participation, suggesting that even the self directed home-based program can benefit women with depressive symptoms .You don't need to join an expensive gym or recruit a personal trainer. No matter what your financial situation or access to equipment you can still benefit from the positive effects of exercise.
Exercise is clearly beneficial to many sufferers of depression and anxiety but it should not be used as the only treatment for patients with severe depression, bipolar and eating disorders. In these cases it is best to seek help from a psychologist, counsellor, your GP or the following resources:
Lifeline www.lifeline.org.au  13 11 14
Beyond Blue www.beyondblue.org.au  1300 22 46 36
Kids Help Line www.kidshelpline.com.au   1800 55 1800
Headspace www.headspace.org.au
Black Dog Institute www.blackdoginstitute.org.au