Haile Gebrselassie, arguably the greatest distance runner of all time, is in the final chapters of his career as he fights for a place at the 2012 London Olympics. The Ethiopian, who already has 2 Olympic gold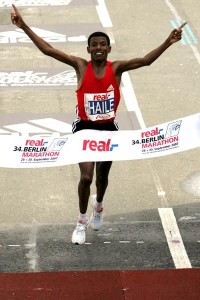 medals is the only man to successfully defend his Olympic 10,000m crown. However in 2012 it is the Olympic marathon that is in Haile's sights. After dominating distance running over the last 20 years (in everything from the 2000m upwards) Haile has dominated in the marathon in the last 6 years, with 9 wins, including 4 Berlin Marathons (06-09), Fukuoka, Amsterdam and 3 Dubai Marathons.
Haile also held the world record (twice in fact) until it was broken by Kenyan runner Partick Makau in Berlin in 2011. In fact Makau is just one of several of amazing Kenyan runners who seem set to take over from Ethiopia, and claim the marathon dominance for Kenya in London this year. 2011 was an amazing year for Kenyan marathon runners. Not only did the WR go to Patrick Makau in Berlin but all 5 world majors were won by Kenyans and all 5 in course or race records. Geoffrey Mutai (Boston & NYC champion), Moses Mosop (Chicago champion), Emmanuel Mutai (London champion) and Makau all look set to spoil Gebrselassie's party in London, should he qualify.
This weekend Haile lines up in the Tokyo marathon aiming to run sub 2:06 and cement his place for Ethiopia at the London Olympics. He faces stiff competition for an Olympic spot as Ethiopia have several great runners including 21yr o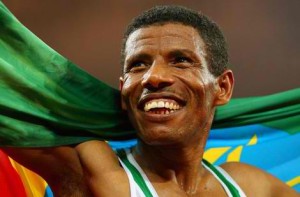 ld Ayele Abshero who won the Dubai marathon last month in a blistering fast 2:04:23, smashing Gebrselassie's former race record record by 30seconds. A feat even more amazing when you consider it was his debut marathon. The Dubai race was an amazing result for Ethiopia with 9 of the top 10 men as well as the women's champion Aselefech Mergia. The top 3 men in Dubai; Abshero, Dino Kemal and Markos Geneti (all Ethiopians) all ran under 2:05 and look to be the top 3 athletes for London 2012 unless Gebrselassie can run an exceptional race in Japan on Sunday. The stakes are high and the pressure is on, but this is exactly when Haile has performed his best in the past, so time will tell if he can repeat his heroics and qualify for his 4th Olympics, 16 years after his first Olympic race.
The eyes of the world's running community will be on Tokyo this Sunday to watch the greatest rise again.