The Tokyo Marathon is an amazing race, and rightly one of the world major marathons. The Japanese people love & respect marathon running and as a nation have an amazing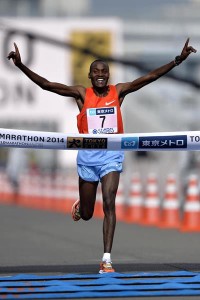 number of elite marathoners. Yesterdays race was won by Kenyan Dickson Chumba in a new race record time of 2:05:42. He beat home Ethiopian Tadese Tola (2:05:57) & compatriot Sammy Kitwara (2:06:30). All 3 men break the old course record in what was a fast day of racing for the elites. In the womens race a new course record was also set by Tirfi Tsegaye (2:22:23) as she beat home fellow Ethiopian Berhane Dibaba (2:22:30) and Kenyan Lucy Kabuu (2:24:16).
The race is an incredible spectacle from start to finish. Huge numbers of Japanese runners dress up in a whole range of outfits.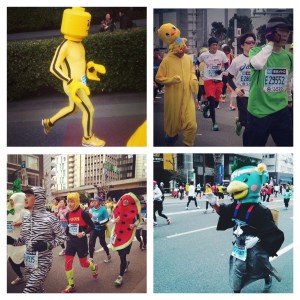 I saw Monkey magic characters, Mario & Luigi, men in full business suits carrying briefcases, and several men & women in traditional outfits. It was incredible. There were lots of cartoon characters & local cult figures too. One guy who ran next to me for 20 something km wore a full gold onesie & another guy a big curly haired wig, which got the crowd cheering when they saw him . I'm guessing he was someone very popular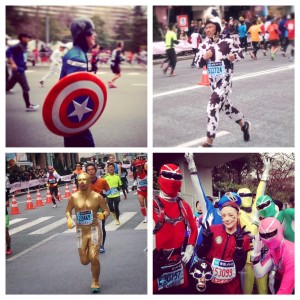 (like a Richie I assume). Anyway it was an amazing race full of characters. The crowd were energetic with shouts of  "Gunbatte!" which loosely translates to 'keep going, be courageous & do your best'. They really appreciate the effort every runner is putting in.
Overall I was pretty happy with my time (2:57), but I did it the hard way. I found it hard to settle into a good pace, partly due to the cold weather & partly due to not having the best day, so I was constantly second guessing how I was going. Unfortunately my Garmin wasn't having a good day either; while I was running at a constant speed (probably 4:08) the Garmin was jumping around giving me paces of 3:36 to 5:25, so I had to stop looking at my watch so much. Not as easy to do when you're hurting & hoping the km will zip by. At least the 5km splits were accurate.
The start was a bit slow, which is normally a sensible way to start, but the course has a nice downhill section for the first 6km so I should've taken more advantage of this. I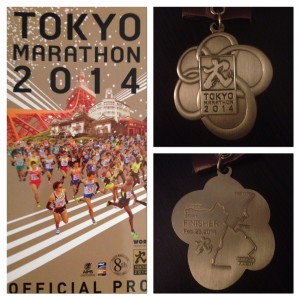 would'veliked to but the crowds of runners were hard to move through. Even though I started in the 2nd wave (of about 10) there were so many slow runners in the first wave. I think it must have been all the fund raising or dress up people who were put up in wave A, anyway it made for a frustrating first few km. Some guys I was chatting to near me were going for 2:30 marathons & they took off trying to step through the crowds. I decided not to barge through the runners, instead taking a gap when I could and just settling into a slower pace. It's a shame the organisers allow this as I know there were quite a few serious runners who were very frustrated at the start, but at the end of the day it was still a great race. It wasn't until after the race when I looked at my race splits that I was much happier with my run. I was consistent with my 5km splits from 10km up to 35km, & even the 35-40km split didn't slow too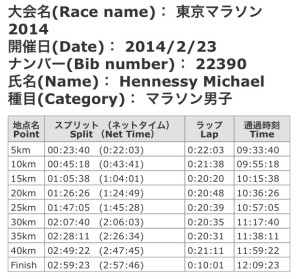 much (maybe 6-8sec/km). It's unusual that I was so disconnected from my pace but I just couldn't quite get into the groove. I certainly had to increase the effort from 30km onwards & from 35km+ I was putting everything into it. I was pumping the arms & really happy for every hill to change the terrain. It was a tough finish, but it makes it all the more satisfying now it's done.
The Tokyo marathon is the 5th World Marathon Major (or 6) for this OUTFIT runner. Hopefully i'l get into the London marathon in 2015 to complete my long term goal. It's been a great journey so far!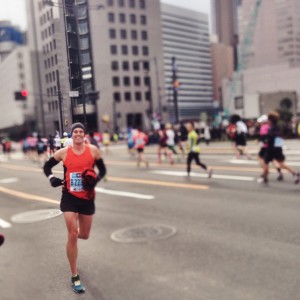 Photo post-production by Bobbie Crothers