Today's Tokyo marathon is a major event in the Japanese running calendar with more than 36,000 participants but almost all eyes were on Haile Gebrselassie. In what seemed his last chance to secure a place in the London Olympics Haile was expected to win, and challenge the course record, against a strong international field including last years winner Hailu Mekkonen (ETH), course record holder Viktor Rothlin (SUI), a strong local contingent and a host of internationals. The race didn't go to plan for Gebrselassie who finished 4th in a time of 2:08:16. With 4km remaining in the race Haile hit the lead but Kenyan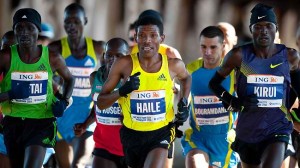 Michael Kipyego surged past him to finish in a time of 2:07:36, with local hero Arata Fujiwara in 2nd (2:07:48) and Ugandan Stephen Kiprotich 3rd (2:07:50). It was a thrilling finish with the podium places changing over the final 3km. Early reports suggest Gebrselassie was struggling with a back complaint and struggled down the hills in the undulating final few kilometres, but regardless, the result looks grim for Gebrselassie and his Olympic aspirations. With a host of young Ethiopians running sub 2:05 earlier this year his dream of competing in the London Olympic marathon is unlikely. It's disappointing that the man many regard as the greatest distance runner of all time will not be at London 2012, but it seems his record breaking days are behind him. Haile will be remembered for many great races across his career including setting and then 1 year later breaking his own marathon world record (now the 3rd & 5th fastest times in history). In Olympic history Haile's amazing win in the 1996 10,000m and again defending his 10,000m crown in the 2000 Olympics in a sprint finish against Kenyan rival Paul Tergat.
The future of marathon running is at an all time high however, with an embarrassment of Kenyan running talent jostling for Olympic selection and a strong group of young Ethiopians emerging with sub 2:05 performances. While the East Africans dominate the world running landscape, performances are improving around the world as Japan, USA and other nations battle for top 10 places.
After the fastest year of marathons (2011), the London Olympics and future major marathons will see some very strong fields and undoubtedly more world record runs. 2:03 is next milestone to fall and it's only a matter of time before the incredible sub 2hr marathon is possible. I can't wait…