The 2013 Perth marathon was a great experience and provided an opportunity for a short getaway to WA. We spent a night up in Chidlow with great trails & bush hospitality, as well as a couple of nights in town, a day exploring Fremantle & of course a good part of a day running around Perth.
The course was beautiful. Starting at 7:30am, the soft morning light bouncing off the glassy swan river was gorgeous. The course winds along the Swan River crossing a few bridges as it jumps from bank to bank and unveils beautiful views of the city from almost all angles. After a loop north & over the Windan Bridge we ran past the WACA and then headed south west down towards Applecross past the Narrows Raffles & Kings Park. And then back to Burswood. Almost exclusively on pedestrian & bike paths the event had the feel of a local community event but with the professional organisation of a marathon that's been running since the 1970's.
In the elite category Roberto Busi won in 2:24:33 to claim the WA state title, beating Chris O'Neill, finishing 2nd in 2:33:06, & Adam Martin finishing 3rd in 2:34:13. In the women's race Tina Major & Nera Jareb fought out a tough battle with Major prevailing in 2:52:13 and Jareb less then a minute behind in 2:53:11.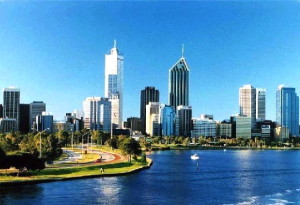 Kelsie Davies finished 3rd in 3:01:25.
The 2013 Perth Marathon was the 35th edition and it is a well run race that will continue to grow in popularity. The event was professionally organised by the WA Marathon Club (WAMC) with approx 700 marathon entrants. A huge team of volunteers manned the aid stations & traffic flow & a small but energetic crowd turned out to cheer on the runners on a cold but sunny morning. In addition to the marathon there was a kids marathon, which is great to see at many Australian events these days, and a marathon relay event for teams of 2-4 runners. All in all it was a great opportunity for runners of all levels to get out & enjoy the perfect conditions.
My personal experience was a tale of 2… For the first 3/4 of the race I felt fantastic & was buoyed by the beautiful sights & winding course as we followed the river. I could have run faster & was continually reminding myself not to go out too fast. Then the last quarter was tough. Really tough! I started to cramp & my comfortable stride turned int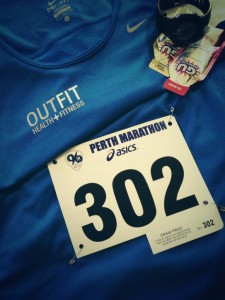 o a choppy shuffle, trying not to make any big moves that might trigger another cramp. As I slowed & runners kept passing me over the final 3-4km I was trying to re calibrate my goals & see if I could still make a sub 3hr marathon. So many parts of the body wanted to stop, but I pushed on and was very happy to sneak in just under 3hrs. While it wasn't the PB I was hoping for I still feel good to have completed another marathon. Regardless of the time it is a big challenge to complete the marathon & every race always presents different physical & mental challenge.
Exploring our great country…
This year we've travelled for various races (marathons, trail runs & adventure races) in Hobart, Newcastle, the Blue Mountains & Perth, as well as all of the Sydney based events. Plus in the coming months we are planning trips to Canberra & Coffs Harbour. It's such a great opportunity to explore different places & spend time with friends. And take part in great events. I'd definitely recommend you create your own healthy weekend away
To find an event search our event calendar.