Just over a week to go until the SMH half marathon and it's time to perfect all the little 1%'ers, such as your race pace plan and fluid intake. Unfortunately the SMH half marathon website doesn't give the simplest instructions with the drink stations or aid stations but here is what I have worked out. Some of this is straight from the race website.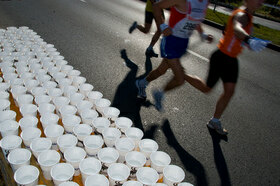 NOTE the km markers for the drink stations are my estimates from the maps & race descriptions.
There will be a drink station near the start and finish lines as well as along the course at approximately 4km intervals. There will be water available at all drink stations at the following locations:
Start Drink Station – Cook & Phillip Park
Drink Station 1 – Hickson Road, Barangaroo                          4km
Drink Station 2 – Pyrmont near Metcalfe Park                     7.1km
Drink Station 3 – Pyrmont outside Star City                         9.7km
Drink Station 4 – Hickson Road, Barangaroo                        13.2km
Drink Station 5 – Hyde Park Barracks                                   17.4km
    Gatorade will be available at Drink Station 2, Drink Station 3, and Drink Station 5.
Getting the right amount to drink
Squeeze the cup into a funnel shape so you can get your mouth around it, and also to help you control the flow of your drink while you're running. You don't want to take down too much in one gulp and you don't want to spill it all over yourself, especially if it's a sticky sports drink, so small sips are best. I generally only have about 1/3 of the cup, so I usually tip the rest out before I start to drink, to limit any spillages & control the flow. Remember to thank all the great volunteers at the aid stations helping support the race. It's a tough job & without them the event would be much tougher for us all!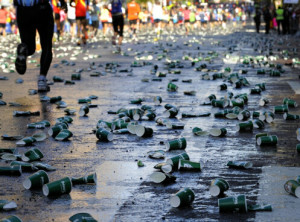 Using sports gels to help performance
Take your gels (such as GU, Endura, Powergel etc), just before a drink station so you can wash down any residue left in your mouth. If it's hot or your mouth is particularly dry the gels can be hard to finish so having them just before a drink station will help. If you're only taking 1 gel, having it at 13km would be great to then wash it down with water at the 13.2km drink station. If you're having 2 you could aim to have one before the 7km mark and another at 13km or 17km. Remember it will take some time til you feel the benefit of the glucose & fructose. The gels should be used to prevent running out of fuel, not as an 'in case of emergency' if you hit the wall. And of course the age old advice, 'never try anything new on race day'. Only do what you've been practicing in your long runs.
For help personalising your race plan or race pace goals email me directly on run@outfithealth.com.au
Have a great race!!