London: In beautiful weather for a marathon, cool & clear skies, and increased security the London Marathon was magnificent on Sunday.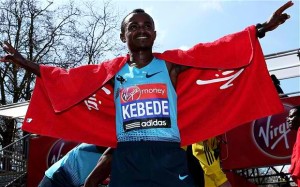 While the WR was not challenged the elite field set a cracking pace over the first half of the course to set up a potential record finish. British favourite & dual Olympic gold medallist, Mo Farah, delivered on his promise not to interfere with the race as he sat at the back of the lead pack and withdrew after an hour of fast racing (as pre agreed). It will be very interesting next year to see if his coach Alberto Salazaar will have Mo in a position to challenge the worlds best marathoners.
Aussie wheelchair marathon champion Kurt Fearnley finished the 42.2km course in just over 90mins with a final blistering finish to beat the gallant Swiss Marcel Hug.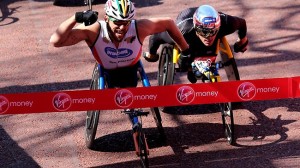 The line up for the 2013 London marathon was one of the most amazing yet with the world record holder (2:03:36), Patrick Makau (KEN), Olympic Gold Medalist, Stephen Kiprotich (UGA), defending London Marathon champion, Wilson Kipsang (KEN) , previous winner Emmanuel Mutai (KEN), 2011 Boston marathon champion with a 'world best' time of 2:03:02 , Geoffrey Mutai (KEN), as well as Kenyan superstars Martin Lel & Abel Kurui. Not to mention a host of upcoming Ethiopian runners, Ayele Abshero (ETH), Feyisa Lelisa (ETH) and the 201o London champion Tsegaye Kebede (ETH).
The race didn't disappoint with a fast pace taking the runners along at WR pace for the first half, much to the detriment of many of the elite pack. The huge crowds were in high spirits as Makau, Kiprotich & G Mutai were left behind it seemed that Emmanuel Mutai would claim a 2nd crown, however Tsegaye Kebede, who was back in 5th at 38km mark surged home catching & passing E.Mutai with only 800m to go to finish in 2:06:04. Emmanuel Mutai finished 2nd in 2:06:34, with Ethiopian Ayele Abshero 3rd in 2:06:57.
The womens race saw a contrasting finish to the mens with Priscah Jeptoo (Ken) 2:20:15, well in front of compatriat Edna Kiplagat (Ken) 2:21:32, and Yukiko Akaba (Jap) 2:24:43. The result was a strong win for Jeptoo despite an unfortunate incident for pre race favourite  Tiki Gelana after she was knocked down by an elite wheelchair competitor as she moved across to grab a drink at an aid station.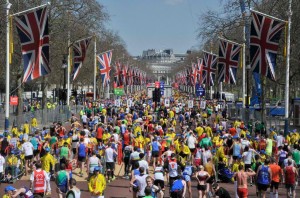 A record crowd enjoyed great weather for the race with the 36,00 participants showing the strength & determination of runners around the world. Many tributes were made to the Boston victims, killed only 6 days earlier.  While the events in Boston will never be forgotten, London put on a great event and provided some much needed good news for the marathon. London is teh 3rd World Major Marathon of 2013, with the next one being Berlin in September, follwoed by Chicago (Oct) & New York (Nov).