Once again Robert de Castella & the team at the Indigenous Marathon Project (IMP) have achieved 100% success as all 11 athletes finished their first marathon. Head coach Tim Rowe has done an amazing job with the athletes coming from across the country in some of the most remote communities in Australia.
But the accolades must go out to all 11 athletes who completed the grueling marathon. It was a truly gutsy effort by all on the day as they displayed all the commitment, hard work, determination and discipline of the last 6months of training. Although the New York Marathon is over for them for 2011, it is the start of big things….and not just in running. No doubt these young men & women will be leaders in their communities for many years to come.
The 1st ever Indigenous women's team results are: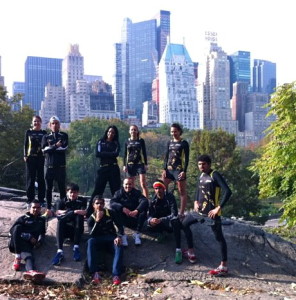 Bianca Graham – 3:40.44
Nadine Hunt – 3:40.44
Bridgette Williams – 4:01.18
Samantha Shepherd – 4:13.25
The Mens also excelled with some fantastic first marathon times
Patrick Keain – 3:19.14
Michael Purcell – 3:33.34
Caine Schofield – 3:54.38
Arian Pearson – 3:54.50
Kiwa Schilling – 4:02.45
Reggie Smith – 4:03.36
Nathan Sutherland – 4:19.41
The inspirational efforts of these athletes will continue to influence people across Australia and no doubt next year the IMP will come back to NYC bigger & stronger ready to create more magical moments.
LINK: IMP running the NYC marathon again
For the 11 athletes the opportunity to share such an amazing experience with the rest of the team is priceless and now to return home to their friends and family as heroes, who have conquered such an amazing feat will be empowering and provide the momentum for positive change across the country. Not only have the athletes been training hard for the marathon, but throughout the program they have completed a Certificate III in Community recreation and will continue to work for local health projects. This grass roots action can have a lasting impact for many communities and this ground swell could be the turning point for indigenous health in Australia. While Robert de Castella continues his aim to take an Indigenous marathon runner to the 2016 Olympics, he knows that the work of the 11 successful athletes from this years program and the 4 trailblazers from 2010 will continue for a long time to come.
To keep up to date with the IMP go to www.themarathonproject.com.au