It has been a terrible week of news coming out of Boston after the horrific bombings just metres from the finish line on Boylston st. Our heartfelt sympathies go out to the family & friends of those affected by the bombings. Sadly the 2013 Boston Marathon will long be remembered for the act of terrorism which claimed 3 lives and injured more than 100 people.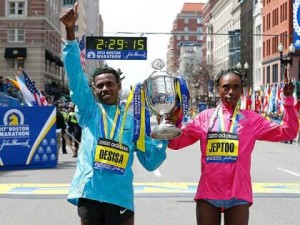 While it feels strange going on to do a summary of the race after such an event here is a wrap up of the Elite races.
Ethiopia's Lelisa Desisa (2:10:22) finished off a captivating race to win in a sprint finish ahead of Kenya's Micah Kogo (2:10:27) and fellow Ethiopian Geb Gebremariam (2:10:28). Desisa's sprint finish and maiden marathon win (in only his 2nd ever marathon) indicates potential for this 23yr old. Amazingly American runners (Jason Hartman 4th, Daniel Tapia 9th & Craig Leon 10th) held as many places in the top 10 as both Ethiopia (3) & Kenya (3).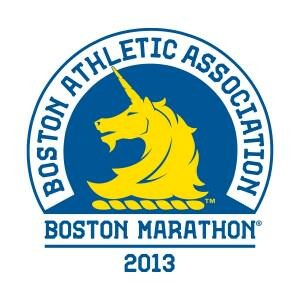 Australian Jeffrey Hunt ran a very strong race and finished 8th in 2:14:28 for the best result by an Australian for many years.
In the womens race Rita Jeptoo (KEN) 2:26:25 beat 2nd placed Meseret Hailu (ETH) 2:26:58 and compatriot Sharon Cherop (KEN) 2:27:01. Both Kenyan's Jeptoo & Cherop are previous Boston winners and were instrumental in the reeling in the leaders Ana Felix & Yolanda Caballero along with American champion Shalane Flanagan and Meseret Hailu.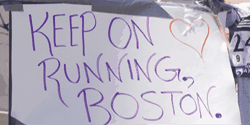 Since the race it has been heart warming to see the solidarity of the people of Boston and all the support people have shown for the ONE BOSTON foundation and the tribute races around the world. Stay tuned for more information for a major Sydney event currently being planned. Another great heartwarming story to come out of the Boston Marathon this year is the tribute to Team Hoyt, Dick & Rick Hoyt who have competed together in 31 Boston Marathons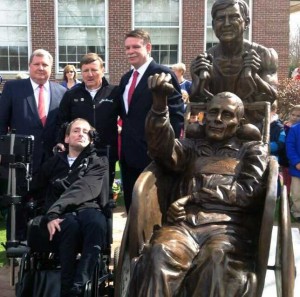 as well as hundreds of other events. It's an amazing tribute to the human spirit and the love of father. The bronze statue unveiled last week at the marathon start in Hopkinton is great.
For now the world's marathon attention turns to London for this weekend's hotly anticipated race. With one of the strongest fields ever assembled it will a compelling race.