Last week I travelled to the Northern Territory with 23 other role models as part of the the NASCA (National Aboriginal Sporting Chance Academy)  ARMtour (Athletes as Role Models). It was an amazing experience I thought I should share… and I'd strongly recommend it to anyone who'd like to get involved. NASCA are always looking for new motivated outgoing role models.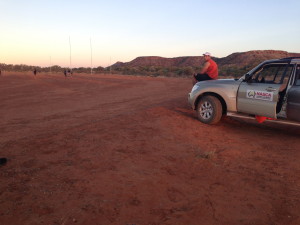 The group of 24 was split into 4 teams each going out to a different aboriginal community (Santa Teresa, Ntaria, Yuelamu & Papunya). Our community, Santa Teresa (only 80km SE of Alice Springs), is a former Catholic mission with a population of about 600 including about 150 school students, from preschool to the senior classes. Needless to say a lot different from my own school experiences in Sydney.
While we were in Santa a typical day involved getting to school early for the breakfast club (providing breakfast for students before school), before joining lessons throughout the day. Role models lead classes as well as assist the teachers and also lead practical sporting sessions out on the oval or in the 'shadey'. With tops around 35 degrees the best sessions are early. Although at least it wasn't 44 degrees like last years trip. After school we'd usually have a quick break to recharge before heading to the 'the club' for an evening of basketball, soccer, football & dancing. The 'club' is the Rec centre which has a large wooden floored basketball court (with a few extra metres around the edge). This court will usually host 2 or 3 basketball games (simultaneously) as well as a soccer match on the side and some end to end kicking & marking of footy's. With about 60 bodies chasing half a dozen different balls its amazing no one gets KO'd but it all works. Even with a few camp dogs wandering in & out of the action (or just relaxing underneath the basketball ring). It probably has to be seen to be believed. The football codes looking to improve players peripheral vision & awareness could probably mimic 'the clubs' hive of energy & activity. It's amazing.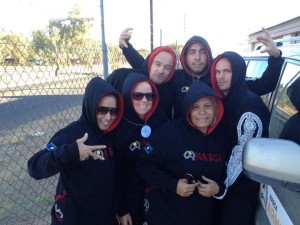 Our team for this tour was a very strong one. Our team leader Beck is an experienced ARMtourist and former youth worker. We also had Kym, a secondary PE teacher returning to Santa for her 4th time in 5yrs. Rish is another PE teacher (head teacher in fact), from Dubbo. Representing the super popular AFL Joey was a huge hit with the kids (AFL is practically the ONLY sport up here), while surfer & skater Chris from Bondi was also very popular. It was a crack unit & diverse team with all the skills & energy to deliver a great week.
While we were in Santa we conducted the school sports carnival was a real highlight. Traditional events such as sprints, jumps, javelin, hammer throw & long distance running was combined with AFL hand passing & goal scoring, netball shooting & soccer goal scoring for an action acted carnival out on the oval. The beautiful dusty red oval with not a blade of grass.
Resurrecting the school sports teams was great as the kids adopted their mascot & colours with gusto. The Goannas (blue), Perentie (green), Emus (white), & Kangaroos (red) all had strong enthusiastic teams. Check out a coupe of the photos of the day…
NASCA have been running the ARMtours 3 times a year for 9years in some communities so it is very well received by the communities. The continuity of the program has helped build strong relationships with the community and achieve great results. The school attendance during the ARMtour is almost 50% higher as the kids really look forward to the visit.
NASCA is a government funded organisation that aims to improve the education outcomes of remote indigenous communities. The 3 pillars of the ARMtour are; stay in school, exercise regularly, and healthy eating & nutrition. 3 ideals that are easy for me to support & very close to my own beliefs.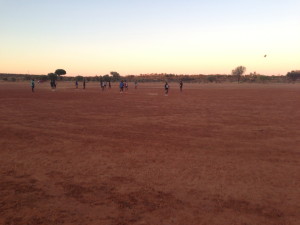 The ARMtour is a great experience which is very well organised. From the cultural awareness training beforehand to the debrief & feedback sessions at the end of the week the program is beneficial for the communities and role models alike. It can be challenging, and letting go of my 'city' timetable & expectations is never easy, but once you immerse yourself in the energy of the kids it's contagious. Meeting such friendly & inquisitive students and sharing it with a great team of interesting & dynamic role models is excellent.
To read about last years tour head to my ARMtour blog from last year or check out some of Anita Heiss' blogs (and another one) . It's amazing the calibre of role models this program attracts!
For more insight on what it's all about check out the video here from  ARMtour Oct 2011